_______________________________________________

MM08: The lid opening of our mid-size bag is also 8 X 17 but the height is 1 1/2 inches taller/deeper/ higher, however you want to say it, than the MM02, for a height of 13 1/2 inches. The overall length is about 23 inches. The MM02 & MM08 use the same lid.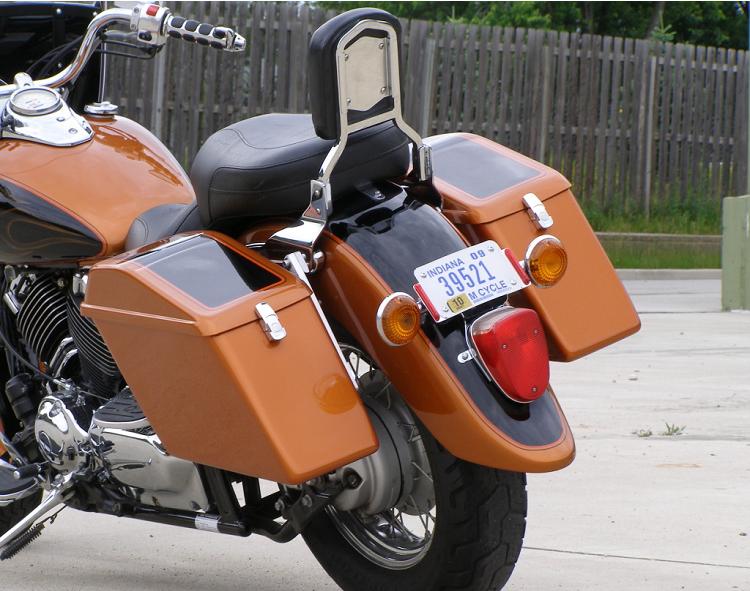 These Hard Saddle Bags are Sold as a KIT

The customer does the painting and configuring the mounts. Since the mounts are universal, the customer has to use his/her judgement on the exact position of the bags, drill the bags, and possibly add some spacers (not supplied) if necessary. On some bikes, longer bolts (not supplied) are required to attach the brackets to the fender rails as our brackets are a full 1/2 inch thick. Complete instructions are provided with each set of bags or an email copy can be sent on request.
We do everything in house so that we can keep the price as low as possible. However, we do not do the custom painting of the bags at our facility. This allows the customer to find a local shop where custom graphics and colors can be applied. This way, if you get a scratch or ding, you can easily go back to the local shop and get a touch-up. You can also order factory matched paint online at www.colorrite.com if you prefer. Some auto paint stores can analyze the paint from your bike using a spectrophotometer and mix up a perfect or near perfect match.